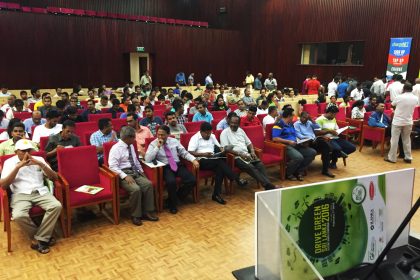 Over 300 electric vehicle enthusiasts and owners participated to the "Drive Green Sri Lanka 2016 – The Electric Vehicle Symposium" organized by Electric Vehicle Club Sri Lanka @ BMICH on 7th February 2016.
Our special thank goes to GreenFrontiers & JLanka as main sponsors and ChargeNet, Access Solar & Spark EV as co-sponsors. And to the our key note speaker Prof. Sumathipala from environment ministry.
Event included presentations from expertise about electric vehicle domain by expertise and sponsors. At the end of the event we had panel discussion with Q&A session. Participant had many questions and discussions in limited 1.5 hours.
It was amazing view of the BMICH with most of the car parks filled up with Electric Vehicles (yes 99% are Nissan Leafs)
We like to thank all our members and participants of the event for help they gave for make this success.