EV Club-Meet up
July 15, 2017 @ 1:00 pm

-

5:00 pm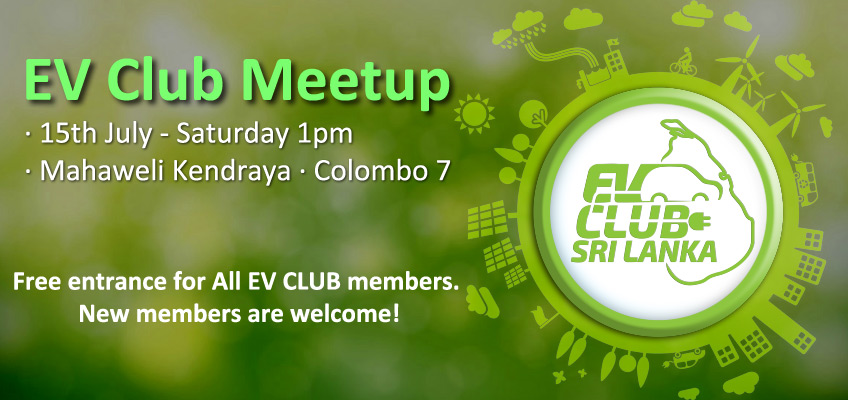 EV Club Sri Lanka Meetup
What we are going to discuss?
• Battery replacements of Nissan Leaf
• What we did so far and current status of negotiations with local dealer and Nissan Japan
• Find out currently available solutions in Sri Lanka and pros/cons in them. Please bring the details you know so we can share.
• What are the actions we can get regarding this issue as a group
Service and maintenance of Cars
• Discuss what we actually have to do as maintenance in EVs
• What are the places that you can get your car serviced
• Members reviews of the places
EV Charging infrastructure
• Are new fast chargers coming?
• Free charring in Hotels and work places
• What we can do for improve the experience
• New tariffs for EV Charging
Offers available for EV Club members
Who can participate?
• It is entrance free event but only EV Club members can participate
• If you are not a member you can register there in the event.
• Member registration fee is Rs 2,000/=
• You can register online by visiting https://www.evclub.lk/ and pay in the event
• Limited seats are available and we dont accept booking reservations. First comers will serve
** Some parking avaible at premisses also there are public parking slots in both sides of the road (front of Vihara maha devi park). please understand the organizing commitee cannot manage or take responsibility about parking.
Note: This will be casual discussion forum where mainly focus on above topics. Members can discuss about any other EV related matters which not listed above. So please come with all information you have.
By acting as a group we got few things done and government's attention (some) in EV related issues. We have to be stronger and continue the efforts then we'll be able to find solutions for other burning issues.
Please let spread the news about this Event and about EV Club among other EV owners and who interest in this.
Ev Club T-shirts will be available to purchase
To find out more about EV Club Sri Lanka and registration please visit https://www.evclub.lk/